Leaving eastern Ukraine to work with REACH in Kyiv – Alya's story
January 21, 2020
Collecting data in crisis-affected countries: a human perspective
Assessments conducted through data collection and analysis are key for creating an evidence-based layer of information to effectively respond to humanitarian crises. Yet behind this technical and numerical world lie hard-working humanitarians who are operating on the ground to give a voice directly to those who benefit from assistance. IMPACT Initiatives is proud to introduce members of its staff working in the field and who are actively engaged in collecting information from affected populations to explore what drives them to keep improving humanitarian action.
Meet Alya, the compelling 24-year-old Ukrainian whose moral compass, after leaving her homeland in Eastern Ukraine, led her to the REACH offices in Kyiv.
Your mission. Previously a data analyst, I am currently working as the database assistant for the central REACH office in Kyiv, for just over a year and a half now. I'm involved in pretty much all the activities that come through our office and my workload is as varied as they get. More recently, I've also supported our team in the Geneva headquarters with a lot of the validation and the review of datasets that takes place there.
On Ukraine. A part of my family is still living in the Non-Governments Controlled Area (NGCA) of Eastern Ukraine, where needs and vulnerabilities are the highest. When I visited my grandmother last winter in Donetsk, I felt how tired people were of the war. Living in Kyiv, I am myself what the humanitarian community calls an IDP (Internally Displaced Person), inheriting the official status since the conflict erupted in 2014 and we were forced to move out of our homeland for fear of our security. The conflict is the only reason I left my home in Donetsk, interrupting my bachelor's degree there. Fortunately, having family members and friends in Kyiv truly helped me relocate. Obviously this is not the case for many people still living in the NGCA. Most don't know where to go, or who to ask for help. They are isolated, cut-off from the rest of the world and extremely vulnerable.
Typical workday. As the database assistant, my workdays never look quite the same. It is up to me to prioritize and focus on certain facts of our work in order for the team to meet objectives. Since I am involved in many processes, my workdays vary depending on which stage of the assessments we are. I can do anything from data cleaning to research, and even recording evidence from our questionnaires. My personal favorite, however, is the work I do in relation to data visualization. I believe that visualization has an immense impact on how we interpret data, and will logically have an impact on how well this data is used.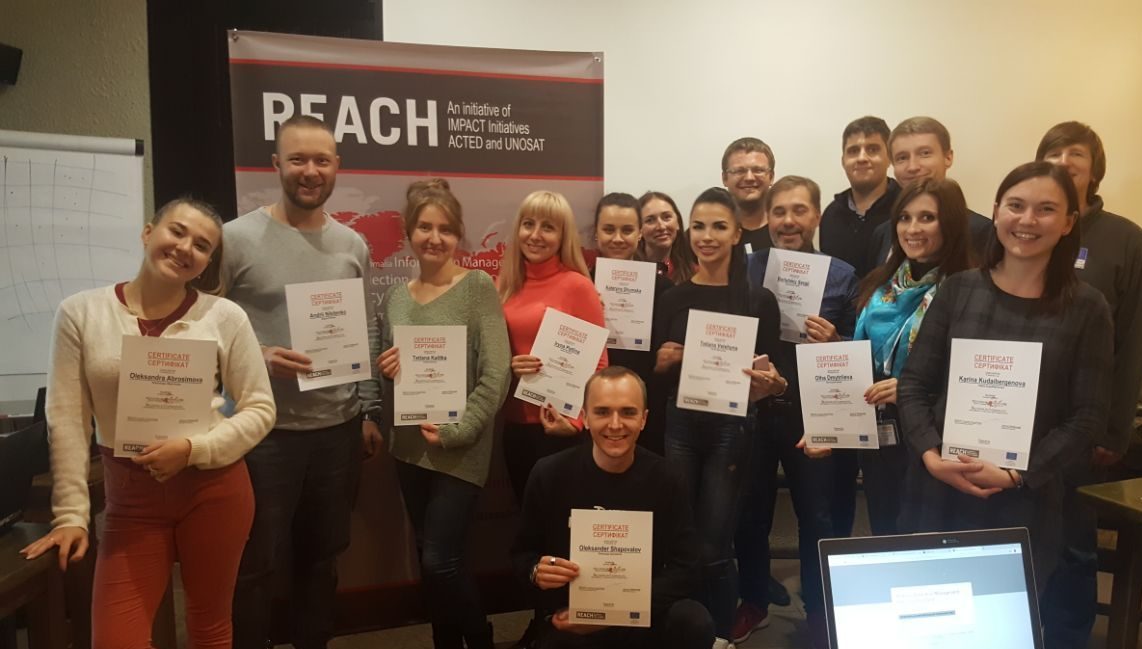 A proud Alya (far left) holds up her Certificate obtained by successfully completing a training on Geographic Information Services (GIS).
Proudest achievement. When I wrote my thesis for my Masters in Economic Analysis on "Understanding Motives Behind Displacement Destination Choice: The Case of IDPs in Ukraine", and subsequently published an article about it, I actually used REACH data quite extensively to inform my research. Now that I work there as a professional, I would say my proudest achievement is that I am putting all the data we receive to truly good use. If used timely, the data we collect and analyze can save lives in critical contexts.
Working for REACH in one word. May I use two? Challenge, and Teamwork.
Why? I am extremely fond of the challenges that come my way, as a result of the many tasks that I manage. The experience you acquire from dealing with such challenges is huge, and it directly serves to develop your skills both as a professional and a humanitarian. Concerning teamwork, well because I love the teams I work with in Kyiv, Sloviansk, Mariupol, and Severodonetsk; and that any good result we achieve is inevitably the fruit of our collaboration.
Most important teaching. Hard work pays off. And more importantly, that hard work should come from your own desire to keep improving.
On evidence-based response. As one of the main purveyors of evidence in humanitarian contexts, the work we do as an organization is extremely important as it definitely helps major aid actors reach the right decisions. That being said, we must constantly remind ourselves to be very careful with the information we handle. It will literally influence decisions at the highest level of response, and so will directly impact the lives of affected populations we seek to assist.
Your dream? That the conflict and violence end in Eastern Europe. Peace is my biggest dream.
Alya presenting to team leaders and local enumerators to debrief a recent assessment.
---
For more information
Learn more about REACH in Ukraine.
Interested in the team? Apply online.
For questions, or media requests, feel free to contact:
Jeremy Wetterwald, Ukraine Country Coordinator, jeremy.wetterwald@reach-initiative.org
Emmanuel Gamard, Communications Officer, emmanuel.gamard@impact-initiatives.org