Four months after the earthquakes, needs are still high in Northwest Syria.
15 June 2023
On February 6th, two major earthquakes hit southern Türkiye, close to the Syrian border. While these are not the first earthquakes in this area, both were stronger than any previously recorded in the region and over 50,000 people are estimated to have died. It has now been four months, but the effects are still being felt, and the population – already vulnerable from years of conflict and economic crisis – is still recovering.  
Thanks to multiple assessments done by our teams and the work of other organizations on the ground, we now have a better overview of the impacts – immediate and lasting – of the earthquake. Although news coverage and attention may have decreased following the immediate aftermath, residents of northwest Syria remain in need of critical services and assistance as they face crumbling infrastructure, a cholera outbreak, food insecurity, and a lack of access to stable livelihoods – only worsened by the February earthquakes.  
This week has also marked the Seventh Brussels Conference on 'Supporting the future of Syria and the region,' and as participants come together to discuss critical humanitarian and resilience issues affecting Syrians, we reflect on some of the key concerns in the northwest.
Situation overview several months on 
Earthquake impacts were felt across Northwest Syria, causing damage and displacement. It severely affected communities across the region with most of the population reporting direct impacts including structural damage and service disruptions. Indeed, the infrastructural impact of the earthquake on water stations and sewage networks has led to a worsening of the water and sanitation situation, increasing the risk of spreading waterborne diseases, such as cholera. 
In addition, health systems have suffered from the impacts both on their infrastructure and their staff, and this reduction in capacity came at the same time as an increase in needs due to earthquake-related injuries – followed by a resurgence of cholera. Furthermore, there has been a clear increase in needs for mental health support following the earthquakes. What is notable is that key informants were much more likely to mention psychosocial support and psychological first aid as main protection needs in March than in January 2023. The psychological stress of the earthquakes, including over 10,000 aftershocks and the severe toll on human life, is considerable, and WHO is advocating for increased psychological support.
How the earthquakes exacerbated the existing displacement crisis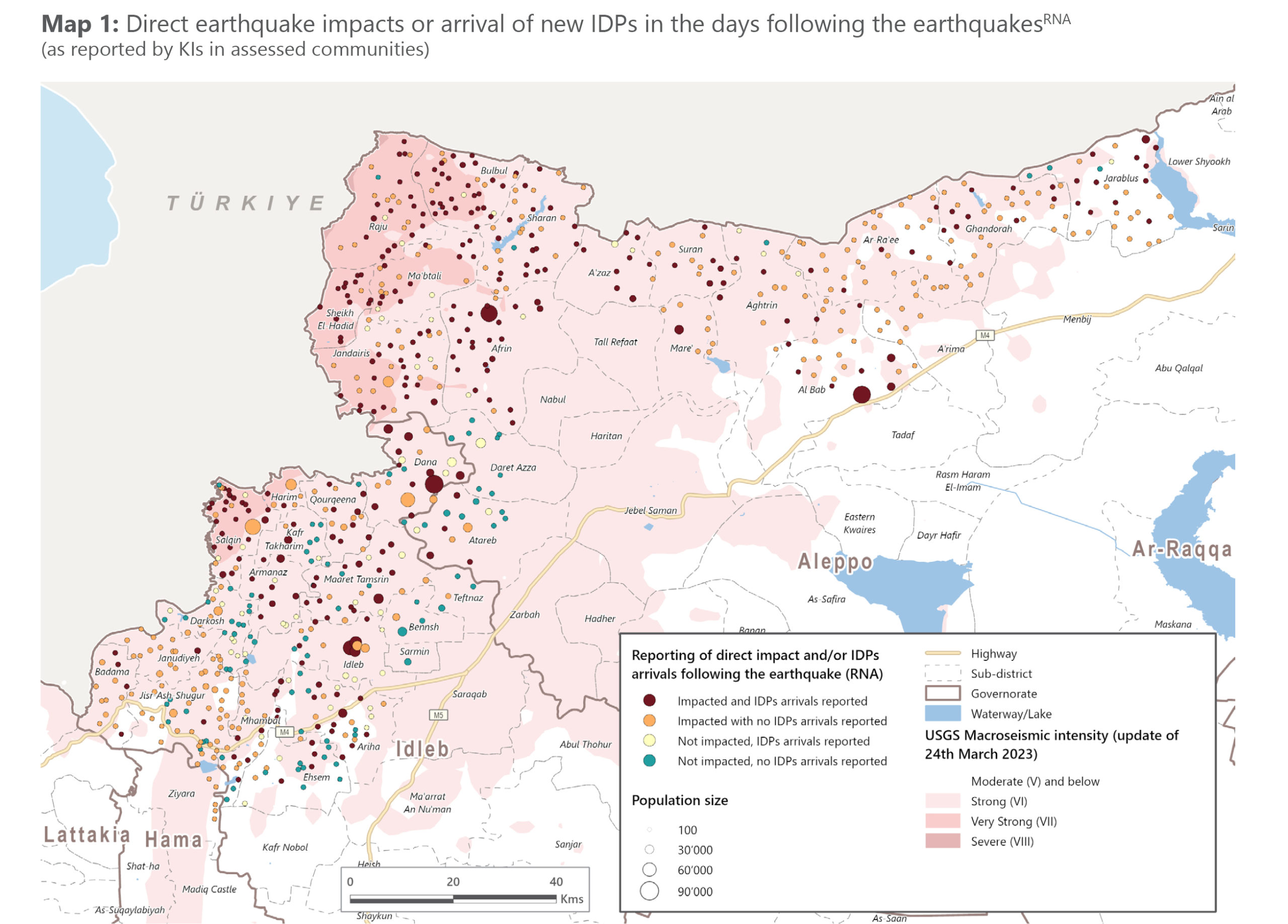 Internal displacement increased as a result of the direct impacts and structural damage from the earthquakes. These new displacements have added to the trauma of those in affected areas, and to the strain on limited services in host communities and last resort sites.  
This is particularly concerning given the already extraordinary rates of displacement in northwest Syria, with over 60% of the population being displaced and over 40% residing in camps. Looking at IDP camps specifically, a representative study found that almost all families living in camps in March had been displaced by the earthquakes, with 9% of families newly displaced and 88% having been displaced more than twice already. Indeed, around 2.9 million people across the region, by the UN's count, were already displaced internally, further complicating recovery efforts.
Focus on food security and market resilience 
Within the humanitarian response, concerns were raised immediately following the earthquakes about whether markets would continue to function, as it was one of the common sources of food for households. Thus, any market failure could have had serious impacts, but it was reported that all or almost all vendors were operating by the second week after the earthquakes. Despite this, food needs remain high.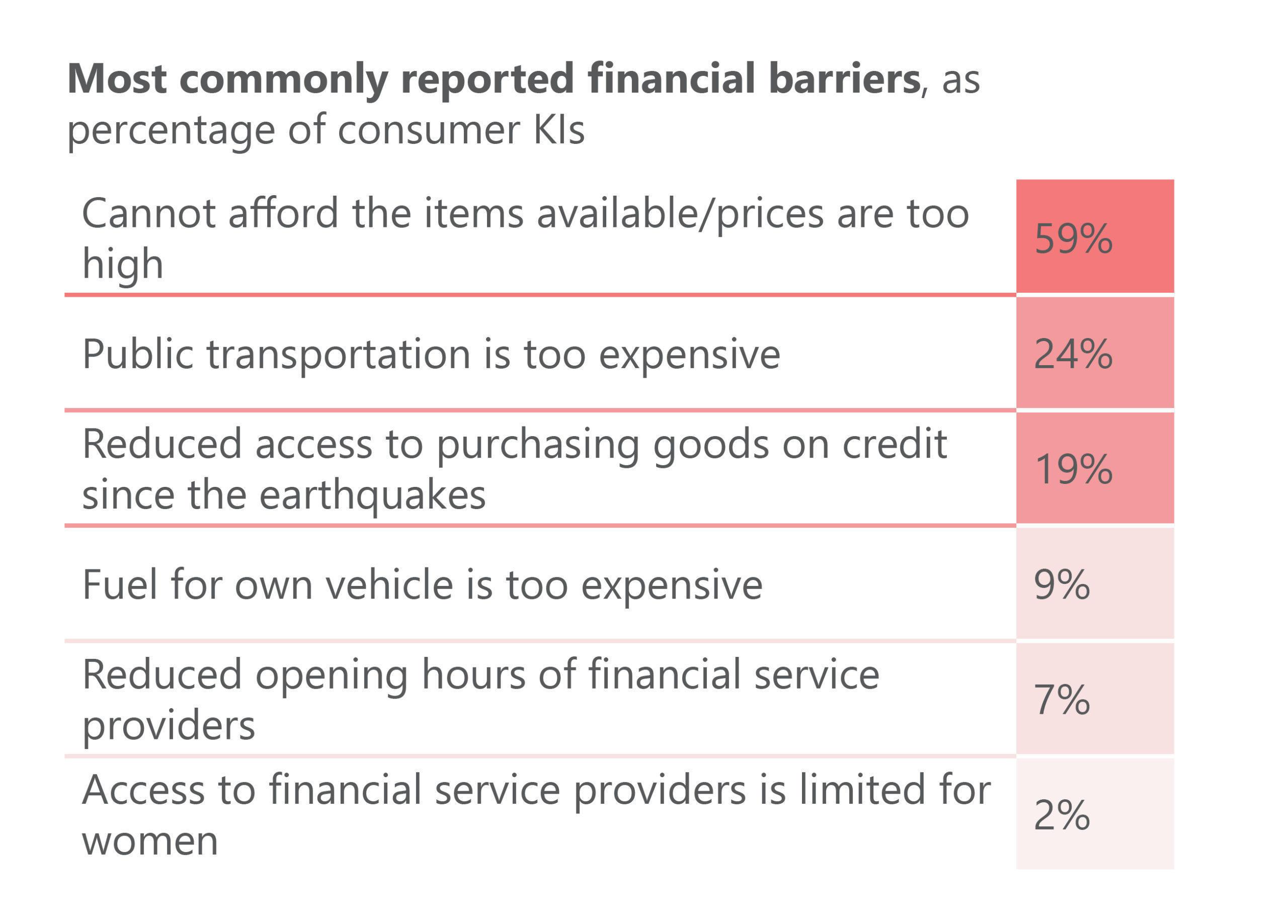 Some root causes are studied in our Earthquake Response Joint Rapid Assessment of Markets, showing that two months since the earthquake, assessed markets were in general reported as physically and socially accessible to consumers. However, access to markets appears more difficult for certain groups including women, older people, people with disabilities, and people with chronic health conditions, and consumers reported feeling unsafe at marketplaces. 
Still, the main barrier might not be physical but financial. Findings indicate that consumer's access to the market was more constrained by financial issues (76% of consumers KI) than physical or social barriers (24%). Hunger has been rising for years in northwest Syria: the UN estimated at the end of 2022 that 3.3 million people, or 70% of the region's population, were food insecure. The increase in demands following the earthquake, the difficulty of transporting goods across the border, limited stocks, and especially price increases and currency depreciation, has made it even more difficult to cover basic needs. This does not only concern food items, but also tents, shelter, and winter items, particularly needed given the increase in internal displacements following the earthquakes. 
Conclusion – what's next  
Even four months after the earthquake, it is crucial to monitor the situation closely, collect more information as the context evolves, and continue to deliver crucial aid. At the same time, longer term solutions like those being discussed at the Brussels Conference remain critical for addressing chronic vulnerabilities and rebuilding resilience among a population facing years of conflict and compounding crises.